Musikalske rariteter og andet spændende...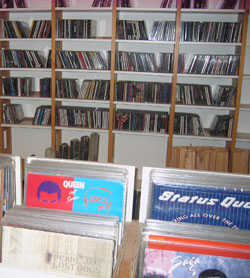 Her hos Sound Check finder du også en del varer, som de andre ikke har på hylden - både sjældne kunstnere, og sjældne udgivelser med de mere kendte.
Og noget af det værste du kan sige, er: "Jeg har ALT med den og den kunstner!"
- Det er en udfordring, som butiksejeren ikke kan sidde overhørig!
Blandt nogle af de kunstnere, du ikke umiddelbart finder andre steder og i samme omfang, kan i spredt orden nævnes:
The Beatles, Rolling Stones, Bob Dylan, Donovan, Abba, Carpenters, Johnny Cash, Willie Nelson, Emmylou Harris, George Harrison, Poul McCartney, Ringo Starr, John Lennon, Pilot, Alan Parsons Project, Police, Sting, The Hollies, Mike Oldfield, Al Stewart, Geordie. Sailor. Camel, The Allman Brothers Band, Grand Funk Railroad, Slade, Uriah Heep, Ken Hensley, Jethro Tull, Ian Anderson, Wishbone Ash, The Who, Cliff Richard, Elvis Presley, The Shadows, Alice Cooper, Lynyrd Skynyrd, Whitesnake, Thin Lizzy, Yes, Jon Anderson, Steve Howe, Asia, Emerson Lake & Palmer, Rick Wakeman, Alrune Rod, Bifrost, Warm Guns, Lars Muhl, Deep Purple, Rainbow, Blackmore's Night, Ian Gillan, Bread, The Byrds, Eagles, Paul Simon, Pearl Jam, Tom Petty, Kansas, Journey, Don Henley, Glenn Frey, Steve Miller Band, Manfred Mann, Mike & The Mechanics, Genesis, Santana, Janis Joplin, Grateful Dead, Jefferson Airplane, The Doors, Ray Manzarek, Chris Rea, The Monkees, Hep Stars, Steely Dan, John Fogerty, Creedence Clearwater Revival, Walter Trout, Iron Maiden, Fairport Convention, Art Garfunkel, Dr. Hook, Sweet, Björn Afzelius, Frede Fup, The Walkers, Kim Larsen, Troels Trier, Røde Mor, Henrik Strube, Backseat, Ivan Pedersen, Poul Krebs, Michael Falch, Malurt, Peter Viskinde, Big Fat Snake, Doraz, Frank Zappa, Georgia Satellites, The Cars, Ry Cooder, Fleetwood Mac, Stevie Nicks, Rod Steward, 10cc, Randy Newman, Bachman-Turner Overdrive, Bryan Adams, Neil Young, Iron Butterfly, Vanilla Fudge, Van Halen, Velvet Underground, Lou Reed, David Bowie, Joni Mitchell, Cream, Eric Clapton, Ten Years After, Alvin Lee, Little Feat, The Guess Who, Saga, Rush, Gasolin, Buffalo Springfield, Steven Stills, Crosby, Stills & Nash, Simon & Garfunkel, Black Sabbath, Led Zeppelin, Badfinger, Bad Company, Free, Paul Rodgers, Queen, Freddy Mercury, Brian May, Bryan Ferry, Roxy Music, Barclay James Harvest, ZZ Top, Pink Floyd, Roger Waters, David Gilmour, Mott The Hoople, Ian Hunter, Foreigner, Bob Marley, Nazareth, The Nice, Dave Matthews Band, Ted Nugent, CV Jørgensen, Elton John, Billy Joel, Gnags, TV-2, Anne Linnet, Lis Sørensen, Sanne Salomonsen, Shit & Chalou og så videre... og så videre... og så videre...


Der er nok at vælge imellem - og er du interesseret i noget som ikke er nævnt ovenfor, så spørg alligevel! Vi har adgang til over en million titler via vore importkanaler!